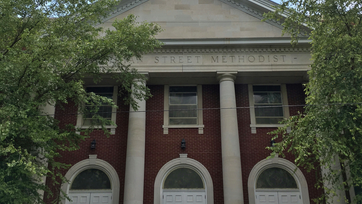 East facet ex-church residence sells for $5.3M | Advancement
A multi-parcel East Nashville assets earlier eyed for a shared workspace company has marketed for $5.3 million — approximately 3 yrs immediately after it altered arms for $4.5 million.
The new owner of the four-plot Cleveland Park house, which is anchored by a previous church developing found at 901 Meridian St., is Invent Communities Inc., in accordance to a Davidson County Sign up of Deeds doc. That entity is affiliated with Jamie Pfeffer, proprietor of East Nashville-based Pfeffer Torode Architecture.
The seller was an LLC loosely related with New York City-centered shared workspace corporation Bond Collective. Bond was targeting opening as a tenant in the ex-church framework (opened in 1936 and most a short while ago household to Ray of Hope Neighborhood Church) in the first quarter of 2020 in what would have been its 1st Nashville spot (study here).
The seller obtained the home in July 2018 for $4.5 million from 901 Meridian Companions LLC, which had paid about $2.33 million for it about two yrs previously. That LLC was affiliated with regional real estate investors and builders Elliott Kyle and Rob Lowe, who, with some fellow investors, experienced acquired the home from neighborhood actual estate trader and developer John Rochford.
Relatedly, Kyle, Lowe and their trader crew undertook the recently completed townhome ingredient of mixed-use project Lindsley Put, situated across Meridian from the previous church creating.
In addition, Kyle and the buyers are trying to get to buy the historic McGavock Household developing and are scheduling a craft beer brewery for the composition (examine below), to be aspect of Lindsley Put.
In the newest transaction, Kyle represented the New York City seller, in accordance to a resource who asked to go unnamed. Pfeffer had no illustration and is not completely ready to disclose any future options he might have pertaining to the ex-church creating, the source said.
The addresses of the other a few properties sold are 903 Meridian St., 307 Cleveland St. and 309 Cleveland St.